Random note #1. I think I finally got the idea for my "chinese variation" dish. The main things I learned: if I cook the chicken with the lid closed, then it's nice and moist and juicy, then I just open it for a few minutes before adding everything else, to brown it up a bit. Basically, that's the quintessential "I catch it, I toss it in the pan" dish inspired by my undergrad cafeteria (speaking of which, I have been hunting for a sauce they had for the last eight years, and I still haven't found one that would be as good).


1. Cook about 2/3 cup of rice
2. Take about .8 pound boneless, skinless chicken breasts, chop up, put on low heat with the lid closed; when almost done, put on high heat with the lid off for a couple minutes.
3. While chicken and rice are cooking, prepare the veggies:
a. open the can of sliced water chestnut (yum!) - I tend to cut them in halves still, though.
b. chop up some baby carrots
c. slice 1/2 to 2/3 a standard 10-oz pack of cherry tomatoes in halves
d. as an option, may use some peas - but when I tried it with the canned green peas, I thought the texture didn't fit the dish, fresh peas would be nicer as they are firmer
e. any other veggies you like - I think onions would be a logical substitute, but I hate cooked onions and therefore wouldn't touch them with a ten-foot pole
4. In the pan where chicken cooked, push the chicken to the side, break two eggs, scramble them. Do not overcook the eggs!
5. Turn the heat back to low, add some more oil (I use either olive or corn oil for all my cooking), mix in the rice and the veggies. Leave on low heat, stirring periodically, for about 5 minutes.
6. Eat. :) Total prep time about 30-40 minutes. Makes about 4 servings.
7. Seasoning: I personally just pour some soy sauce over it when eating, so I don't add anything when cooking, but I think the field is wide for what's out there, and the possibilities are endless.

That's what the dish looked like. :)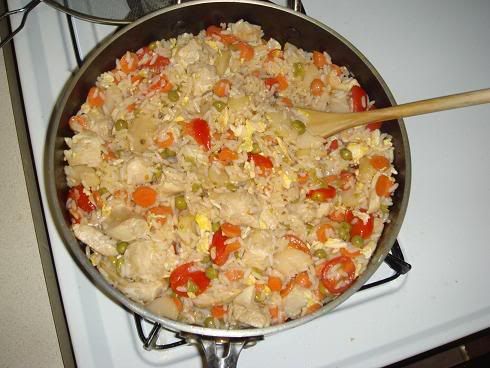 My father always liked to joke that a regular person can come up with three names for a dish, a cook with ten, and a chef with a hundred. I only came up with four, and they are all in Russian and hard to translate. :D
- Китайская вариация (рабочее название)
- Осенняя поэма голодающего студента (перевести на китайский для псевдо-классического звучания)
- Кто не спрятался - я не виновата (в смысле, продукты какие под руку попали, те и в сковородку полетели)
- Буржуй в эмиграции (курица вместо рябчиков, морковка вместо ананасов - тяжело живется...)

In other news, I will be going to Hawaii January 24-31. Basically, I am loosing the whole day of the 24th and the whole day of the 31st just flying. Dammit. But it's OK. Conference really starts on the 28th for me, so I have three days to relax and soak in the sun. One regret is that I won't be able to fulfill my long-time dream of climbing a volcano, since that's something I would prefer to do in a company. Yes, I know all about the tours, but I think it's better to have someone looking after you personally on dangerous routes. :o

And on the final note, I was again happy and squee-y in the law update presentation today, so people started suggesting I go to law school. I have considered it for a while... but today I did some looking around, and a university in Newark offers a program which is not JD, not intended to practice law (something I don't care about) but instead is a Master's program in healthcare law. And it's also available part-time. Squee? I signed up for their open house on February 7th to see what it's all about. I might actually consider doing that... two years of my life will be killed off studying again, but may it be worth it eventually?


Actually, on the final-final note, I am looking for a nice art print to buy for my office. I have a strong affinity for mountains and lakes/mountains and rivers type of landscapes. In fact, all three pieces of art I own in my home/my parents' home are all that. Should I branch out? Or should I hang up a nice mountains and waterfall picture?