If you are reading this, most of the time this is exactly what is on the other side of the computer screen. In a crappy webcam quality, without make-up, me as is. :)

Если вы читаете эти строки, то по другу сторону экрана сидит именно вот такое вот существо, в засвеченнов вебкамовом исполнении. Ненакрашенное, в очках, и улыбающееся.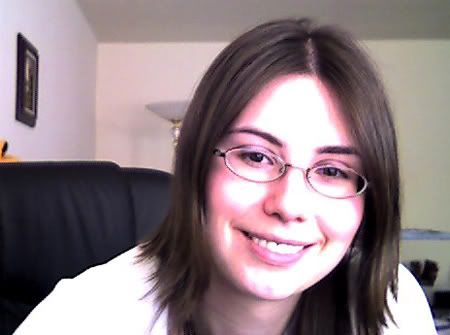 Я пошла варить суп из чечевицы похожий на тот что я пробовала в местном ресторане. Интересно, что из этого выйдет? Я никогда не пробовала варить ни чечевицу, ни ветчину. Ну, в любом случае должно быть съедобно, все ингредиенты абсолютно натуральные, а технологию щаз поищу, в каком порядке продукты закидывать. Рецепт идентичный найти, к сожалению, не удалось. Пожелайте мне удачи.

Now I am off to try and make lentil soup similar to that at a local restaurant. I have no idea what's going to come out of it, as I have never before attempted to cook either lentils or ham. Oh well, it has to be edible at least, since I am using all natural ingredients... and while I couldn't find the recipe, I can look up the basic sequence of what put in when, at least. Wish me luck.